Descendents of John & Catherine (Kleinz) Jung
We would like to thank Robert Novak for providing the dates outlined below.
We have displayed these dates against the 50th anniversary picture.
From Bob: Here are the birth dates of Ma & Pa Jung and the 10 children. There were 11 but I don't have the date of that one, his name was Joseph and he was born on May 16th. But do not have the year and I don't know who would.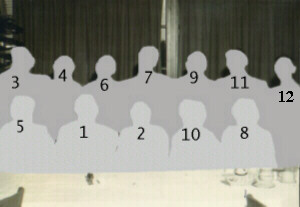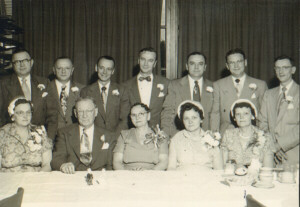 1. John Matthew Jung Born Sept. 3, 1882 Died Jan. 8, 1961
2. Katherine (Kleins) Jung Born March 3, 1885 Died Jan. 10, 1961
__________________

CLICK on the name to bring up that wing of the tree.

CHILDREN:
3. Jacob Jung ------Born Oct. 17 1901
4. Peter Jung------Born Jan. 16, 1904; Died October 18, 1981
5. Mary (Jung) Novak--Born May 7, 1905; Died Jan.31, 1977
6. Emerick Jung---Born March 13, 1907; Died July 5, 1987
7. Louis Jung-----Born Jan. 13, 1909; Died October 14, 2004
8. Katherine (Jung) Hannigan--Born Oct.17,1910; Died March 21, 2003
9. John Jung------Born Aug.26,1912 Died April 14, 1962
10. Clementine (Jung) Reise---Born Sept. 3, 1914; Died February 27, 2005
11. Bernard Jung---Born Oct.10, 1919; Died August 8, 2002
12. Leo Jung-----Born Oct.17, 1922; Died January 12, 1989